T1ER concludes third event of the season in New Jersey
October 30, 2023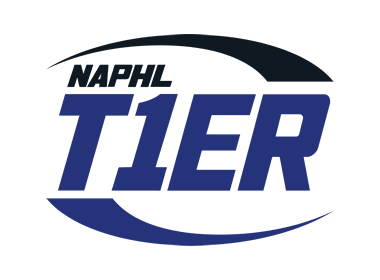 The third event of the North American Prospects Hockey League (NAPHL) T1ER League came to a close on Sunday, October 30th with 18 and 16U teams taking to the ice for games for a final day of action.
The third event of the 2023-24 T1ER season took place this past weekend on October 27-29, 2023, at the Middletown Sports Complex in Middletown, NJ.
Day 3 recaps
T1ER 18U: Nathaniel Brisette and Jacob Roberts each scored two goals and added an assist to lead North Shore Academy to a 7-1 win over New Jersey. Richard Popson Jr. made 17 saves in the win. The North Carolina Golden Bears finished the event with a 3-1-0 record thanks to a 6-2 win on the final day over New Hampshire. New Hampshire scored the first two goals, but North Carolina answered with six straight goals, including two goals and an assist from Ryan Bernard. George Ross made 30 saves to lead the Northeast Generals to a 3-0 shutout win over the New Jersey Jr. Titans Elite. Carson Zugec, Jason Tucker, and Makhai Santiago-Dame had the goals in the Generals win. The Philadelphia Hockey Club completed a perfect 4-0 run at the event in New Jersey thanks to a 4-2 win over the Wilkes-Barre Scranton Knights. Lorenzo Rossi made 28 saves in the win and goals came from Ethan Coots, Nicholas Rockey, Thomas Britton, and Riley Capecci.
T1ER 16U: In the first 16U Game, North Shore Academy finished with a 3-1 record at the event thanks to a 10-5 over New Hampshire on the final day. James Lu had four goals and one assist and Nolan Beauchain had a hat-trick and two assists in the win. In the other game, the New Jersey Jr. Titans 15U beat the Northeast Generals, 6-2. Aiden Grinshpun had two goals for the Titans in the win and Titans goalie Brandon Wenzel got the win in goal.
The next NAPHL event will be the first SHOW League event of the season, which will take place from November 10-13 in Hookset, New Hampshire.