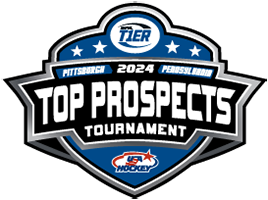 T1ER Top Prospects Tournament
The 2024 T1ER Top Prospects is new brand new this year and is exclusively for only players that play in the T1ER league.
The Tournament will be held from February 5-6, 2024, at the UPMC Lemieux Sports Complex in Cranberry Township, Pennsylvania and feature two T1ER 18U teams and two T1ER 16U teams that will be selected by NAHL Scouting Staffs.
The Tournament will be played in conjunction with the North American Hockey League's (NAHL) Top Prospects Tournament, which will be held on the same dates and at the same location. Scouts from all NAHL teams as well as hundreds of NCAA and NHL scouts will be in attendance looking for the next crop of talent. T1ER players playing in this event will received exposure unlike any other event they attend.
The T1ER League has enjoyed a record-breaking amount of advancement, which is again is highlighted this season by a large amount of advancement of players to the NAHL, which includes 100+ former players annually playing in the NAHL. Last season, a record number of players were tendered or drafted into the NAHL and USHL in large part because of showcase events like the NAPHL Top Prospects Tournament. With a strong handful of NCAA commitments, USHL call-ups and NAHL tenders signed each season, the T1ER League is expecting another banner year in terms of player advancement, including those players appearing in the 2024 Top Prospects Tournament.