T1ER League continues with West Showcase in New Mexico
November 16, 2023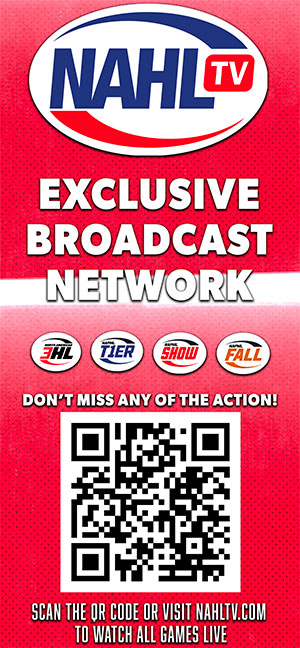 The New Mexico Ice Wolves organization and Outpost Ice Arenas are set to host a milestone weekend as the North American Prospects Hockey League's (NAPHL) T1ER League West Showcase and NAHL Experience comes to Albuquerque for the first time ever running November 17-19.
This is the sixth overall event of the 2023-24 season for the NAPHL, which is made up of the T1ER, SHOW, and FALL Leagues.
Watch all the games live on NAHLTV
The NAPHL T1ER League is sanctioned by USA Hockey and is designed to maximize the exposure of all the participants through the NAHL's high-profile recruiting events that attract hundreds of college, junior and professional scouts.
The NAPHL T1ER League West Showcase event in Albuquerque will feature 16 teams comprised of 18U and 16U players who along with coaches will also have access to Outpost Ice Arenas full suite of hockey facilities used by the NM Ice Wolves NAHL and NA3HL teams including the Speed Gym, training rinks, full-service hockey and skate shop, team lounge, video room and locker rooms.
"This will be the biggest hockey weekend to ever hit New Mexico and it's an excellent opportunity for hockey fans to watch some of the best young players in the nation as they play and experience the culture of the New Mexico Ice Wolves organization and all of what the Outpost Ice Arenas has to offer," said Stan E. Hubbard, owner of the NM Ice Wolves and Outpost Ice Arenas. "We are proud to host this important event and highlight the growth of hockey in New Mexico and beyond. The impact and scope of what we're building here as a premiere destination for hockey's ladder of development."
NAHL Games: In addition to the weekend NAPHL T1ER League West Showcase and NAHL Experience, Outpost Ice Arenas also plays host to NM Ice Wolves NAHL team as they welcome South Division rival the Colorado Grit for a three-game homestand over the weekend with Friday and Saturday games at 7:30pm MT and Sunday's game starting at 5pm MT.
Things do to in New Mexico